"Teaching is love and a teacher must love to teach." - Alice Somer Herz
"Generous people use themselves all up at it; they have no sense." - Willa Cather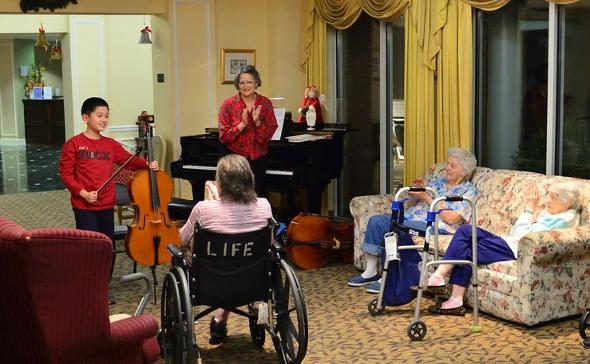 Cello teaching has come a long way. I started cello lessons when I was 13 years old and my teacher, in the old-fashioned manner, sat beside me as we looked at notes on a music stand and played endless duets by Dotzauer. This teacher never actually listened to me play by myself. Not surprisingly, I rarely practiced. A teacher who does not listen to a student, cannot possibly be of any help! In fact, it is detrimental if you never listen to your own sound. All sorts of physical problems will ensue and you destroy your sensitivity which is the key to learning to play.
Few of us have started to learn the cello under optimal circumstances. Life is messy and as a teacher, many of your students will have already been playing the cello when you first meet them. Even if they are totally new to the cello, it may take time to figure out what might be standing in the way of their progress. My advice is to try to get to know the student and her family and friends. Creating bonds will help you see that person in a context. Then you'll have ideas for conversations that might help the student or other ideas that might promote progress.
Agatha Christie says, "Teaching can only be satisfactory if it awakens some response in you." This is when teaching is effective - when the teacher can awaken a response in the student. You have planted a seed of motivation. Nurture it!
For me, the hardest students to teach are the ones who don't talk. It can be hard to get to the bottom of why they don't express themselves verbally. Many students don't talk much during a lesson but that is normal as long as they do respond to your questions. Sometimes, you need to tell them that it's fine to say, "I'm not sure" for an answer.
------------------------------------------
The only type of student that I do not like to teach is the one who has an unappreciative attitude.
"How sharper than a serpent's tooth it is to have a thankless child." - Shakespeare
Fear is ubiquitous among students, especially those who feel they are being continually evaluated. Squelching fear is often our number one job. If you want your student to sing to you through his cello, you have to create a relaxed and comfortable atmosphere. When a student walks into a lesson, smile. Always greet one another.
"The only good teachers for you are those friends who love you, who think you are interesting or very important or wonderfully funny; whose attitude is: 'tell me more. Tell me all you can. I want to understand more about everything you feel and know and all the changes inside and out of you. Let more come out.'" - Brenda Ueland
Ah, teaching... It is certainly a calling because you have to really want to do it to be able to do it well. I wish that everyone reading this has had or will have a wonderful cello teacher. You have to be lucky but you do have to keep searching. I got a wonderful cello teacher when I was 27 years old, married and with a baby,
Lowri Blake
. When I first came to her, I can't even imagine what I must have sounded like. Looking at my assignment book from 1987, she wrote "head up, keep neck free, don't press with R.H. fingers, etc." She made me sit on a chair without cello or bow for 2 minutes. Then I had to sit with the cello and not play for a couple more minutes. She took me back to square one with very simple pieces and short etudes (
Feuillard 60 etudes du jeune violoncelliste
) and after a couple of years my playing did improve.
--------------------------------
The more teaching experience you get, the more you'll know what might be the best steps to take with a student depending on:
the student's stage in development on the instrument
the student's emotional robustness (for example, a student who is a perfectionist, needs lots of humor)
the age of the student
the student's physical efficiency - does their body seem to be functioning in a lively positive manner?
the ability of the student to focus during a particular lesson or in general
the musical responsiveness of the student
This advice which is meant for parents, is good for teachers too.
Put the student in the position of control.
Speak little, avoid commands. Ask questions that lead to action.
When the student encounters a problem, avoid rushing to the rescue. Create opportunities for resilience.
"Where is the book in which the teacher can read about what teaching is? The children themselves are this book. We should not learn to teach out of any book other than the one lying open before us and consisting of the children themselves."
- Rudolf Steiner