- Balance and Coordination - Sitting with a cello - The Pelvis
If you are very thin, with a bony chest, (this is usually only true for children who are very thin) the cello can feel irritating. Use a thick cloth, like a pot holder and put it between cello and chest. For very thin children, this can make all the difference between pleasure and discomfort. Attach string and it can stay hanging from cello as in this photo.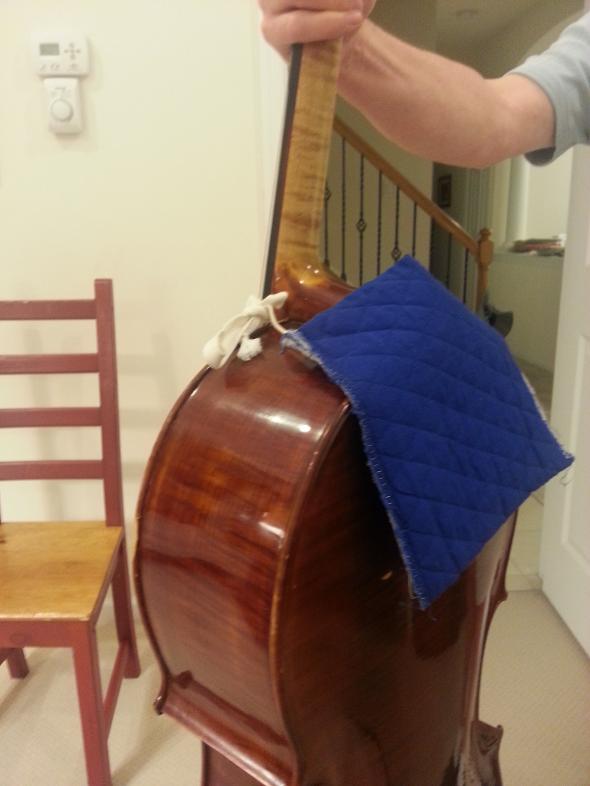 Due to the way I position my cello (which is a full size cello), and the length of my torso, I need a Posture Peg for my C string. In case you're wondering what my proportions are, I'm 5 foot 5 inches and I would say the distance from my bottom (the seat of my chair) to the center of my ear is about 29 inches.
-----------------------------
You'll find an assortment of chairs and cushions at Cellos2go.com. I have the "Adjustrite Musician's Chair" and love it. If I don't bring my chair to a rehearsal (it's heavy and cumbersome) I carry a piece of styrofoam about an inch thick and big enough for my bottom because most chairs are too low. Nothing is lighter to carry than styrofoam and I just place it on top of the chair. (it's also free!)